Over the five days I was in Gangneung and the two in Seoul, Kim tried to make sure I got to try as many of the key main dishes that I could.

Of all the ones I tried, I never once had a bad meal.

Here are the main dishes from my travels that you will want to know about.
Sangung Gui = "Fish Grilled"
This was the first dish I had in Gangneung with Kim.

Next to shabu shabu, it ends up being my second favorite meal.
The dish came with lots of sides: wilted greens in broth, spiced potatoes, cabbage leaf kimchi, slightly pickled bean sprouts, pumpkin mash, mushrooms, broccoli with gochujang, and zucchini with onions.
The sansung gui itself was probably one of the best fish dinners I ever had.

It comes with the spine so you have to remove that.

Then, the fish is lightly seasoned and takes most of the flavor from the charring and cooking.

It gets a type of savory carmelization that makes it taste flavorful and complex.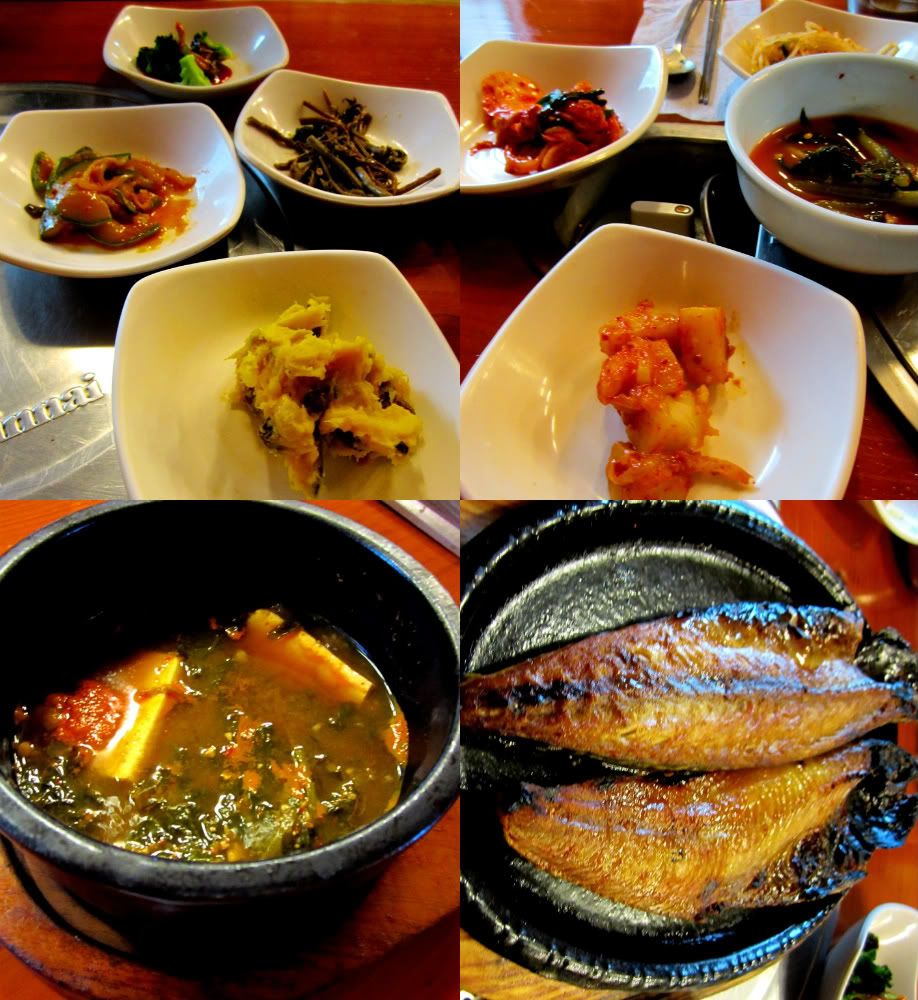 Dak Galbi (also, dalk galbi) = "Chicken Ribs" . . . although I couldn't tell you why
Dak Galbi is a chicken that is stir fried in gochujang right at the table.
It comes with onions, garlic, potatoes, rice dumplings (or tteok), and cabbage.

The use of the gochujang makes it spicy and you eat it with lettuce.

The place we ate at actually served it with sesame leaves that are a little spicy, peppery, and even a little minty.
The chicken tends to be dark meat and so is a little grissly, but still rich in flavor. My favorite part of the dish was the tteok and when I discovered that I could get a bowl of just that from vendors, I was hooked.
The words, "shabu shabu," don't really have a literal translation.

It is soup of vegetables and thinly sliced meat that is flash cooked in a rich red broth.

The one I ate had mushrooms and dropwart, udon noodles, a couple of slices of potatoes, and meat.

A large cast iron pot is brought to the table and the vegetables cook down in front of you.

Once the soup is boiling, you add some of the meat and the udon.
Kim talked about how the soup gets "stewier and stewier", or better and better as it continues to cook.

The broth near the end of end of the meal is particularly rich and satisfying, so it is particularly good meal for socializing—eat a little, drink a little, let the soup thicken, and eat some more.

The flavor of the broth is spicy, complex, and rich and was made even spicier and sharp from the dropwart (something that looks like cilantro but tastes more like the leafy tops of celery).

The meat also reminds me of how strong and rich jerky can get, except the meat in shabu shabu is melt in your mouth tender.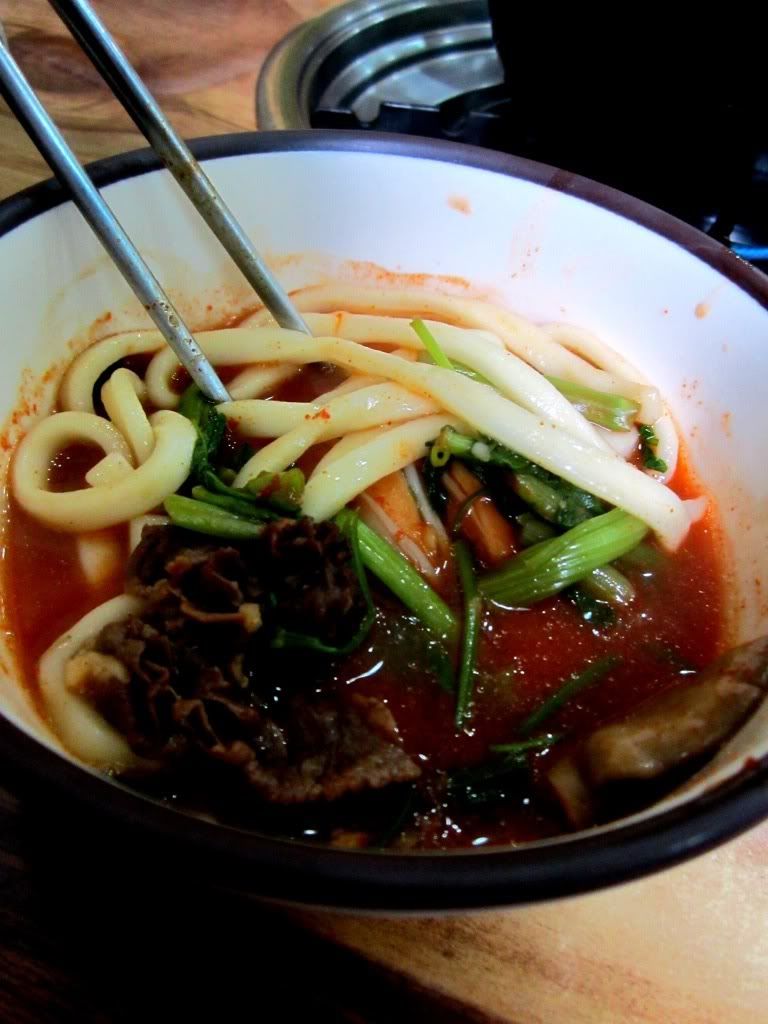 Galbi = Ribs and Sausage Barbeque
This is one of the most fun eating experiences.

Although shabu shabu and dak galbi cook in front of you and you get some interaction, barbeque does feel very hands on.

The wait staff brings a cylinder of red coals to the table and installs it in the center.

They then put a metal grate over the coals for you to cook on.

Once that grill gets too much char on it, they'll come through and replace it with another.
For meats, you can get pork, sausages, or ribs.

We ordered the ribs and sausages that already come fairly precooked and are already safe to eat.

You then get to set them on the grill and char them to your heart's content.

The ribs are spicy and tender, and the sausages remind me a lot of really nice hot dogs.

They both improve the more you grilled them, letting them get a little crispy and smoky.
The meal also came with an egg soup (served sizzling hot in a cast iron bowl), water kimchi, thinly sliced cabbage with kiwi dressing, finely shredded greens, onions, bean sprouts, and the usual of garlic, peppers, gochujang, a type of mustardy sauce, and lettuce.

Kim introduced me to the merits of grilling the leafy kimchi and it became one of my favorite ways to eat kimchi.

It loses a bit of its tang and crispiness and instead gets smokier, fuller, and more savory.

You will want to try it because it is a great way of trying kimchi in its many forms, and the flavor changes of grilling work well with the barbequed meat.
Coming Up Next Tuesday . . . Vendor Food