For this Food Photo Friday, I'm featuring a picture from the blog Fannetastic Food, written by Anne P. Anne is working to become a Registered Dietitian and created a blog that reminds readers that being a foodie can be healthy. Sometimes, in watching things like Top Chef and seeing so much dolloping of butter, cream, etc, it seem like the life of a foodie is antithetical to a healthy lifestyle. Anne's "fannetastic" recipes and colorful pictures do a lot to remind me that good for you and good tasting aren't necessarily mutually exclusive.
The picture I wanted to feature is one from her post called, "
Friend Thanksgiving
," a post about having a potluck with her graduate school friends. Although there is a very tantalizing picture of roasting birds, the picture I chose features my favorite vegetable, Brussels sprouts. What struck me about the picture, in addition to the rows of little green heads, was the use of focus and pattern. In a lot of food photos, the pattern comes so much from the table and the fabrics brought in the table decoration. In this picture, I liked how a sense of pattern and texture just comes from having so many little Brussels sprouts laid out on the pan. Plus, the focus gives such a interesting sense of detail and scope to make those little vegetables with the bad reputation look a little more epic.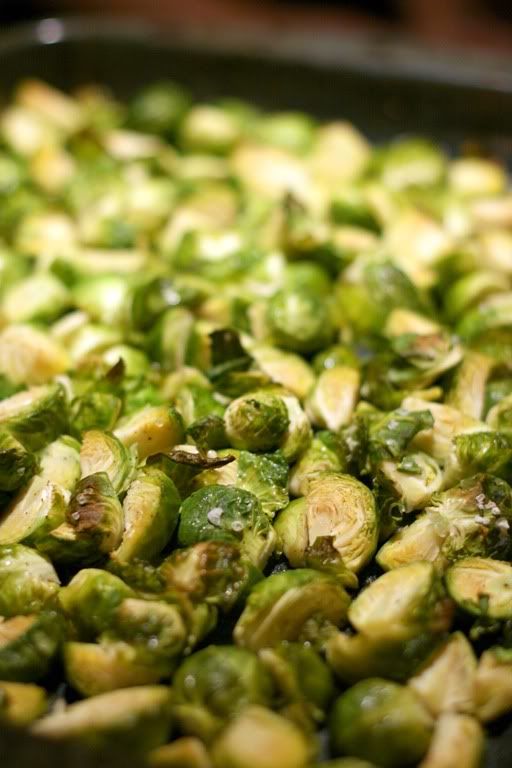 As always, if there is s a food photo you would like to nominate, leave a note in the comment section or send me an email (downhomefoodie@gmail.com) with a link.
Thanks to Anne for letting me feature her picture!