As I mentioned last week, I am serving as a judge in a "Be My Valentines" recipe contest for Very Good Recipes. So for this Food Photo Friday, I wanted to feature a picture from one of the contest participants to help get some interest in the contest as well as show off a really fantastic food photo.
The photo comes from the blog, The Way to His Heart, written by Maeghan. In asking Maeghan about her blog, she talked about how the tagline, "recipes to fall in love with," has two means. It has the literal meaning as well as her commitment to recipes that she can cook for everyday life to bring happiness and joy to her husband, daughter, and friends. What a great statement to the potential for food.
Maeghan also wrote to me that she doesn't differentiate between "fancy" and "comforting" when it comes to recipes, because "

Good food is comforting, point blank." I couldn't agree more!
The photo is from her "Be My Valentine" submission for "
Heart Shaped Thin Mints
." With Valentine's Day coming up, it is beautiful photo to reminds us of the sweet seduction that comes with Valentine's Day. I thought her picture nicely balances the dark chocolate and white background with the little hint of red in the middle. It makes for such a lush and sexy looking picture.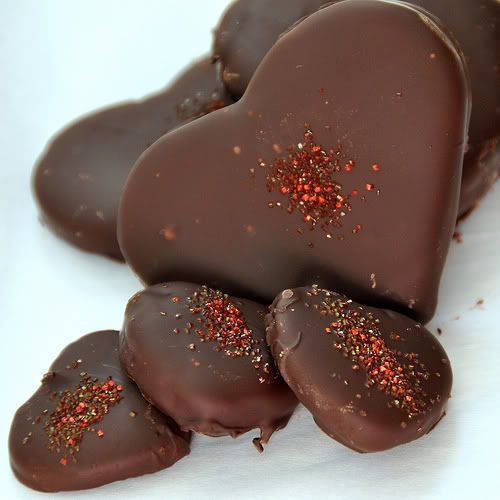 Thanks for sharing your picture, Maeghan! And please check out the "Be My Valentine" contest.