Lexington, KY, is a place that is a bourbon and wine and late night bars and food delight.
It is a good stop on the way place, but a better go a week and wantonly bumble through the bourbon trail.
On leaving, one exit contained two bourbon distilleries, a winery, a cigar place, and a candy store.
Intrigued?
Image from Bourbon n'Toulouse's Website
Part I: Bourbon n'Toulouse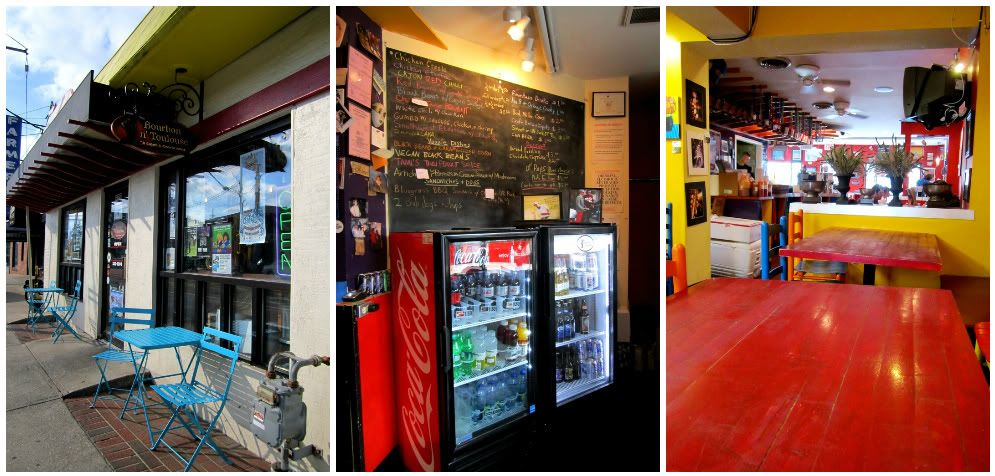 They have a
menu
(that also has gluten-free options) of Cajun and New Orleans inspired dishes and are all under the same pricing scale: $4.50 for a small portion, $6.50 for a regular size, and $7.50 to get two instead of one.
Dennis and I both chose two so we could try as much as possible.
Each dish is served on white rice with a slice of bread that is dipped in garlic butter.
All of the dishes are waiting in a long line of pots kept hot.
So, once you order and pay at the counter, the dish is ready in almost no time.
Southwest Etouffe and Gumbo
Red Beans and Sausage and Jambalaya
Dennis had the
Southwest Etouffee with Crawfish
and the
Gumbo
while I had the
Jambalaya
and the
Red Beans with Smoked Sausage
.
Although I've never been to the "big easy," Dennis has experienced cajun food in New Orleans on several occasions.
He said that the flavors are not quite as strong and lack some of the intensity, but that overall he really enjoyed the food, finding it solid with the general idea of New Orleans.
I, who suffers from a lack of Cajun cuisine, liked the culinary change of pace and enjoyed the thick, full sauces that I loaded with hot sauce.
Dennis's favorite was the Crawfish Ettouffe and mine was the Gumbo.
I'd also recommend getting an Ale-8-One to have with the meal. It is a Kentucky a ginger-flavored soft drink that has been around since 1926. It is bright and refreshing and works really well with spicy hot Cajun food.
Bourbon n'Toulous strikes me as the perfect college hangout. Located near the University of Kentucky, it is a quick, easy, and cheap way of getting a warm, satisfying meal. I think they would be the perfect comfort food during final exams, and I imagine that if there were one near me, you would catch me there with my laptop on a regular basis.
Shouldn't every restaurant have a hot sauce station like this?