Melt Bar and Grill
This is the last entry of my "Road Trip 2011" series and it makes me so happy to end on this food note. I visited Melt Bar and Grill on my last trip to Cleveland and have been in love with this restaurant ever since. Melt is simply the holy land of grilled cheese and all grilled cheese disciples must at some point make a pilgrimage. Melt is so important to me that the hotel was chosen according to proximity to Melt (well. . .and the hotel was really cheap).
Here are the reasons why I love Melt . . .
Grilled Cheese Challenge from Melt's Website
They do things with grilled cheese that I have only dreamed about.
There are amazing beers on tap and in the bottle to accompany the grilled cheese.
Melt was featured on two of my favorite food shows: Diners, Drive-Ins, and Dives and Man vs. Food.
They put pierogies in their grilled cheese.
They have a grilled cheese challenge that involves 13 different cheeses and over 5 lbs. of food
It is a great warm and comforting food escape from the cold Ohio winter weather.
They put pierogies in their grilled cheese.
They make their sandwiches with deliciously fluffy and buttery Texas toast.
The restaurant is decorated with "found art:" i.e. record albums for menus, silverware and broken bottles for stain glass and discarded glowing holiday lawn decorations.
And, the main reason, they put pierogies on their grilled cheese.
Sorry, I have a one track mind; but, it is only because two of my "couldn't live without" (why even bother living without) foods are pierogies and grilled cheese. The Parmageddon, as Melt lovingly named it, is two potato pierogies, vodka sauerkraut, onions, and cheese. If you are not drooling uncontrollably, then we just can't be blog friends anymore.

I, alas, have only had the Parmageddon once because last visit to Melt I got the second reason you have to go to Melt, The Godfather. This grilled cheese concoctions features three cheese lasagna, fennel-oregano pasta, red sauce, provolone, and "garlic spiked" bread. Think of all those times you had lasagna with a side of garlic bread and fantasized about what it would be like to eat it at the same time. Fantasize no more, just go to Melt. The Godfather is tender, full of Italian flavors, and well-balanced because of the fresh fennel pasta that keeps it from being a heavy starch overload.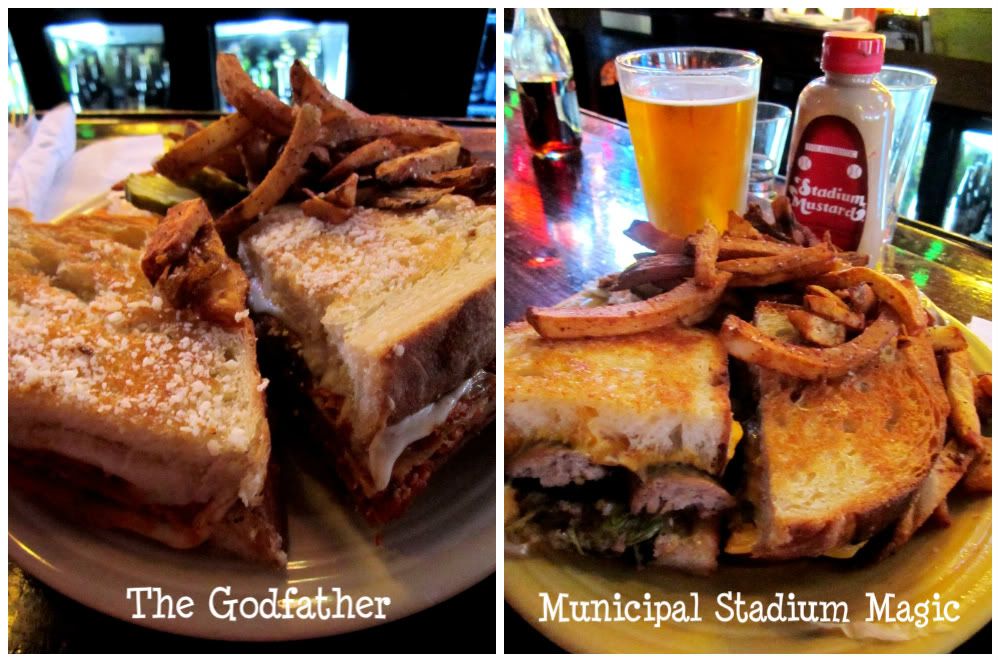 On last year's visit, Dennis ordered the Northcoast Shore, which is a crabcake, garlic spinach, roasted red peppers, and herbed cream cheese. The crabcake was delicious, the spinach rich and warm, and the whole thing well courtered by tart peppers and cool cream cheese. He claimed to like it more than the Parmageddon, but I don't fathom that as being possible. This year, he ordered the Municipal Stadium Magic—bratwurst, vodka kraut, grilled peppers, and cheese. This was good, but probably not as strong as the other three; it needed more balance of ingredients. Plus, it isn't lasagna in grilled cheese.
One day, if I'm lucky, there will be a Melt near me. Sure, I could make my own pierogi grilled cheese. Sure, it would be good. But, it wouldn't be Melt's Parmageddon.