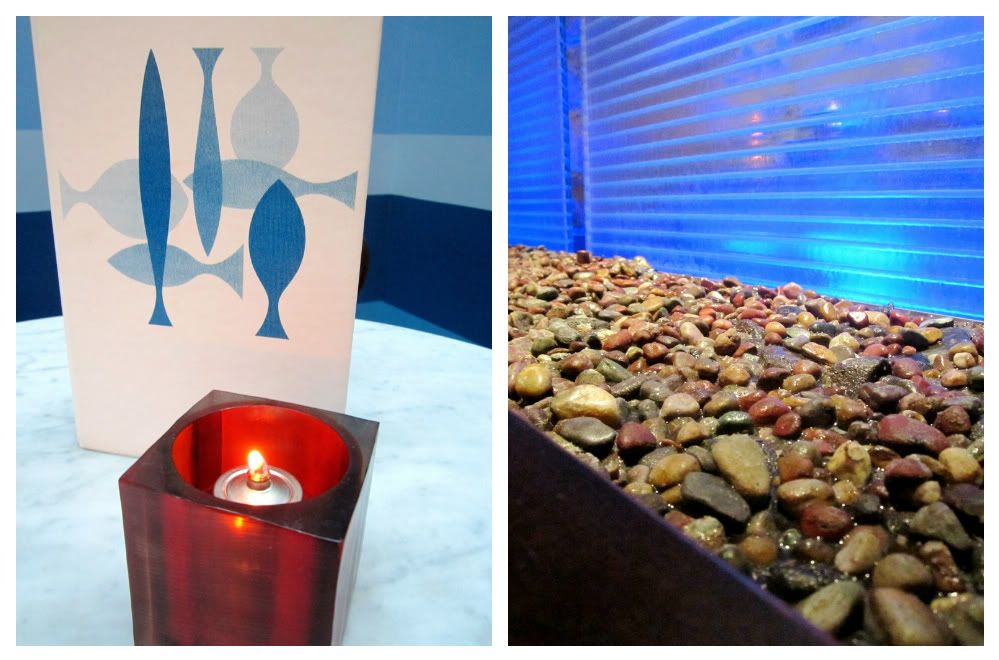 Sea Blue, located in the MGM Grand, is just one of Micheal Mina's restaurants. It has a fantastic atmosphere. The booths are next to waterfall-like cascading fountains that are attractively lit with blue lights and fall into smooth river rocks. The decorations contrast blues and reds and nice geometric patterns highlight seaforms while adding modern flair.
I was intrigued by the menu, but scared away by the prices. However, for us poorer foodies, Sea Blue does offer a nice Happy Hour, giving you a chance to try fancy haute-cuisine for less.
For drinks, $5 gets you either the daily cocktail (whiskey sours on my visit), a limited selection of red or white wine, or sangria in red or white. I got a red sangria and Kathy got the white version. Both had great hints of fruit and had citrus to brighten the wine. They were good except for an absence of fruit to eat when you finished the drink—that is my favorite part of sangria and I really was looking forward to a nice hunk of apples or oranges dripping with red wine.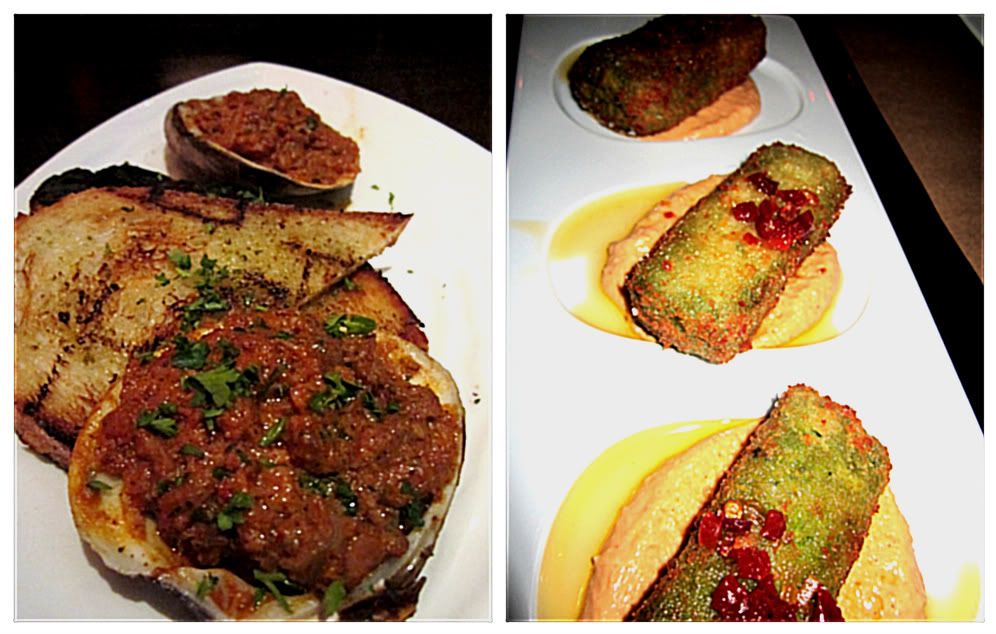 For food, Kathy and I split Stuffed Chincoteague Clams, Falafel Fritters, and Octopops. The Stuffed Clams were by far the star: they were full-flavored from the wood roasted chorizo that was spicy and smoky. The saltiness and liquidity of the clams did a great job cutting the oiliness and meatiness of the chorizo which gave the dish a nice balance. The Falafel Fritters were also quite good. Served with tahini and tomota confit, the dish wasn't too heavy. The tahini, which was more towards hummusie than sesame, was creamy and warm from hints of garlic. The tomato confit was a little miserly and felt more like a garnish than a component. The Octopops, well, were what they claim to be . . . pieces of octopus tentacles on a stick. They were chewy and smoky from the chargrill cooking. Plus, dipped in the coriander aioli, they were quite tasty. But, I can't seem to figure out what flavor is inherent in octopus. It doesn't have the fun saltiness of clams, mussels, and oysters; it lacks the subtle sweetness of shrimp, crab, and lobster. It even is missing in the subtle nuances of squid. It is what it is.
Unlike Level 107, it was harder to turn this Happy Hour into a full meal. They're offerings are lacking in a nice substantial carb element like the Sliders or Crostini. So, I'd recommend Sea Blue's appetizer as a good preshow snack that gives you a good sense of what Sea Blue can cook. But, for those with more grand appetites, you will probably still need something else a little latter.